Ancinipo as it stands today, the Roman theatre, large enough to seat 2,000 people


Andalucia has a rich history, and many ancient civilisations have left behind a legacy of ruins and historical sites. Many of these make for good day trips from the Costa del Sol.
Acinipo in Ronda
Bobastro near Alora
If you're visiting the historic city of Ronda this is something to see. It also makes a good detour is you're traveling to Seville.
More >
Bobastro is really an ancient village. It is located in the El Torcal national park, which is where you will see some of Europe's most amazing limestone formations.
More >
Cathedrals
Dolmens of Menga
Málaga's cathedral is very well cared for and worth a visit while you are on the Costa del Sol.
More >
Dolmens of Menga and the figure of Efebro in Antequera
More >
Málaga's Alcazaba
Málaga's Gibralfaro
Here's a chance to see a fortress dating back to the 700's A.C.
More >
This castle overlooking Málaga city is now a national Parador hotel.
More >
Museums
Picasso's home
Find here a list of museums in the province of Málaga.
More >
Spain's celebrated painter, Pablo Picasso was born in 1881 in the corner house of an elegant yellow-toned block on Plaza de la Merced.
More >
Religious Centres
Theatres
Numerous religions are represented on the Costa del Sol. Not all have centres open to the public, but you might try visiting the Buddhist Stupa, one of the largest Stupa's in the western world.
More >
Málaga, Fuengirola and Marbella all have theatres worth visiting. However, Málaga's Teatro Cervantes is considered to be a genuine historical monument.
More >

3-Day Tour: Madrid to Costa del Sol via Seville & Ronda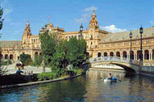 If you are short on time or just want to see more of Spain, this three day tour from Madrid to Costa del Sol is for you. Visit Seville and Cordoba along the way and see for yourself some of Spain's many UNESCO World Heritage listed sites.
Built on the banks of the Guadalquivir River, Seville displays a rich Arab legacy. Every street and square that makes up the historic quarter of the Andalusian capital bursts with joy and activity. This area has an interesting collection of historic buildings, many of which have been declared UNESCO World Heritage Sites, and also contains colorful districts with great popular flavor, such as Triana and La Macarena.