Estepona - Restaurants
Estepona has a varied selection of restaurants both in the town itself and in the surrounding areas. In the cobbled streets of the old town you will find many good quality tapas restaurants, serving the very best of authentic, traditional Spanish cuisine, as well as many sit-down restaurants serving both fish and meat dishes, as well as paellas. Stroll around the old town and you will also find a few hidden gems.
The port in Estepona has a great selection of restaurants offering spectacular views over the Mediterranean. There are also Chinese and Indian restaurants here, as well as a fish & chips restaurant serving freshly caught battered cod and much more.
Outside Estepona, in the nearby urbanisations of Benamara, El Pilar and El Paraíso, there are even more restaurants, often located on or next to the beachfront, letting you listen to the waves while you eat.
Listed below are our personal favourite restaurants, chiringuitos and tapas bars in Estepona, Málaga - Enjoy.
Reserve Online: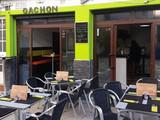 Gachón
A different sort of space found right in the middle of Estepona. It offers the best combination of fresh, healthy and rich food. Excellent service, vegetarian menu and quite a cozy place.
Hotel Kempinski - Baltazár Bar & Grill
Elegant, but cozy. This is Baltazár, a new gastronomic concept set in a modern, urban version of a traditional romantic winery with fantastic views of the lush gardens and pools. The chefs in Baltazár select the freshest and most natural Spanish products for their dishes.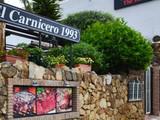 Grill El Carnicero 1993
Entrecot - Angus Beef - Lamb - Suckling Pig - Chicken - Fish – A restaurant big on grilled meats. Located in Cancelada, to the east of Estepona town.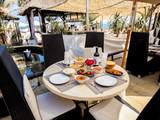 Ruby´s Laguna Village
The finest Tex-Mex and Indian foods go hand in hand in this unique restaurant. A range of foods have been carefully selected with distinctive quality for you to enjoy. Ruby's can be found in Laguna Village just outside of the main town of Estepona.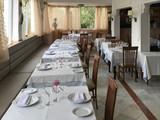 A Fogo
A pleasant space with elegant and typical Mediterranean design. The dishes are inspired by traditional Mediterranean cuisine and are made with top quality ingredients. It is situated to the east, just outside of the centre of Estepona.
Restaurants
Felix Brasserie
You will find Felix Brasserie serving dishes with a perfect combination of Asian and European gastronomies, resulting in an explosion of flavours, making Brasserie Felix the best Euro-Asian Restaurant of the Costa del Sol. La Voladilla Baja Ctra de Cádiz, Km 163,50. Estepona. Tel: +34 951 053 661. Map

Las Palmeras
Only a few meters from the shore, Las Palmeras allows its guests to enjoy the sound of the waves whilst enjoying the best of Andalusian cuisine. A wide selection of fish, shellfish and home made desserts.Voladilla Baja. Ctra. Cádiz km 163,5. Estepona. Tel: +34 951 053 663. Map

11 y 11 Restobar
This restobar offers live music and the menu has a variety of seafood dishes, as well as salads and meat dishes. Located in Estepona port, enjoy views over the Med. Wed-Sun Lunch & Dinner. Puerto Deportivo Local 39 Estepona Port L39. Estepona. Book Online with the Fork. Tel: +34 951 703 060.

Casa Del Rey
Located in the pedestrianised, cobbled streets of Estepona old town, this restaurant serves exquisite tapas and has terrace and an indoor courtyard where you can eat. Wine tasting. There is a huge choice of red and white wines. Lunch & dinner. Calle Raphael | Next to Plaza de las Flores. Estepona. Tel: +34 951 965 414.