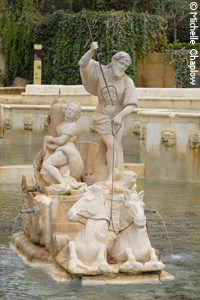 The Fuente del Rey is an
extraordinary fountain.
This prosperous olive-farming town stands on a plateau overlooking the rolling hills of the Subbética Mountain Range, and is famous for its baroque churches, in which the convoluted patterns are elegantly incised into the stone façades, such as the Iglesia de la Asunción and the Iglesia de la Aurora, from which a cloaked brotherhood sets out on a procession every Saturday night, singing songs and collecting alms.
All this magnificence was made possible by the town´s 18th century silk-production boom, the main monument to which is the Fuente del Rey, an extraordinary fountain in a leafy park with numerous large pools and no less than 139 spouts surrounding a statue of Neptune.
The interesting sights are clearly signposted in Priego de Cordoba. The old town is built around the Arabic castle at the edge of the escarpment. The castle is XIII century with reconstruction in the XVI century. There is a large prayer tower and six other smaller towers. The Church of the Asuncion is a XVI century Gothic Mudejar temple remodelled in the Baroque style in the XVIII century. The main altarpiece is Renaissance. the sacristy chapel is known as a masterpiece of the Spanish baroque. The tower dates back to 1541. (Opening hours 11-13.30, 17.30-19, closed Mondays).
Search Hotels in Priego de Cordoba
Barrio de la Villa is the oldest residential area. Whitewashed houses whose walls are decorated with plant pots of geraniums and petunias. The doors and windows are neatly painted in blue or green. There are even rainwater gutters and drain pipes which is very unusual for southern Spain. The houses are separated by a maze of very narrow cobbled lanes, too narrow for the motorcar. In complete contrast many of the little lanes are united by the Balcon de Aldarve which affords magnificent views from the escarpment across the rolling countryside.
The Paseo de Colon nearby is a quiet shady walkway that also opens out to the same view.
The Carnicerias Reales is the old slaughter house from the XVI. It centres around a central patio with a colonnade of arches. There is also a well preserved stone spiral staircase.
The town summer feria is the end of August and the first days of September.