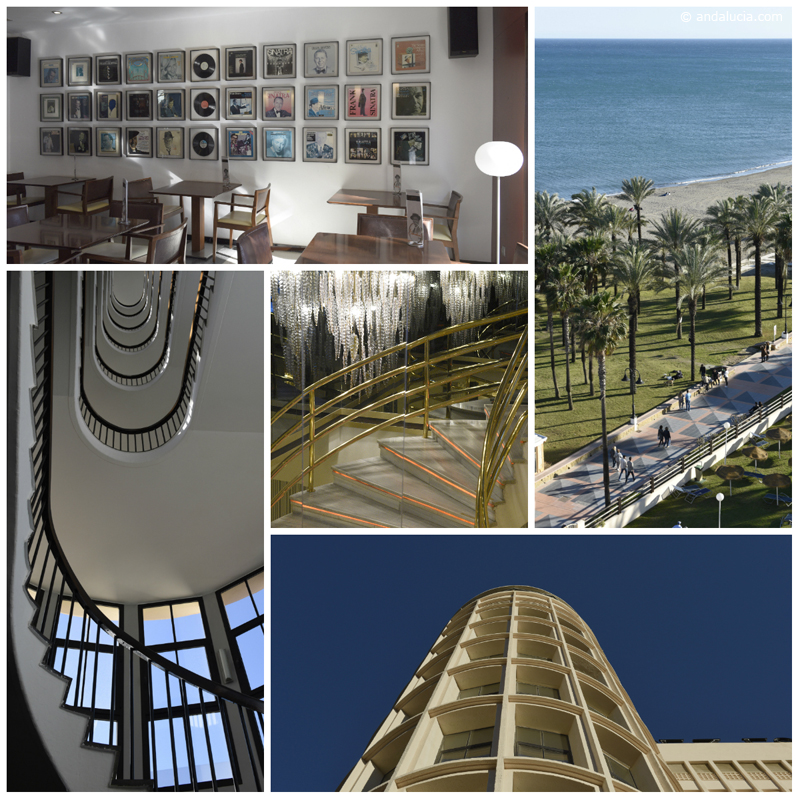 The historic Pez Espada Hotel in Torremolinos
Torremolinos History
The 'in place' of the 1950's and the Hotel Pez Espada.
by Chris Chaplow
.........continued from Pre-history, Moors, Catholic Re-conquest, and 20th
In the 1950s the French invented the "Petit Tour", which was the long and arduous overland route by train to Málaga and then along the pretty Costabella (while examples of the name Costa del Sol did exist in print at this time, it was not in general use) via Torremolinos, Marbella and Gibraltar to Tangier and perhaps Marrakesh. Thanks to some celebrity press coverage, wealthy Americans came to check out the "in place" called Torremolinos as part of their European tours.
Whereas other parts of seaside southern Europe such as Nice on the French Riviera (Côte d' Azur), Portofino on the Italian Riviera, Biarritz and San Sebastián on the Atlantic coast were already functioning as tourist resorts, the potential of Torremolinos with its low land cost was not unnoticed. However, the main problem was that it was two uncomfortable days of train travel further away.
Nevertheless, there was a convenient air base in Málaga. "El Rompedizo" was its name, after the farm it on which it was built. Located between Torremolinos and Málaga, it existed thanks to an Air Poste refuelling stop for French aviators travelling from Paris to Buenos Aires. From this a Spanish military air base was established. On 12 July 1946 the Málaga air base began to offer national and international scheduled flights and in 1948 dedicated civilian passenger facilities were opened. (See Málaga airport History).
In the 1950s, famous celebrities began to visit: Rita Hayworth (1950), Grahame Green (1953), Lord Halifax (1955), Ava Gardner (1955) and Grace Kelly (1956).
Brigitte Bardot (1958) filmed "Les bijoutiers du clair de lune" in Torremolinos and El Retiro. The film, which included naked scenes, was banned in Spain for several years before a public outcry forced an edited version to be released. Off set Bardot rode a donkey taxi, tried out bullfighting in Mijas and found time to visit Prince Hohenlohe in Marbella Club hotel. Bardot chose the beaches of Torremolinos, not Marbella, to top up her all-over tan, and the locals of La Carihuela were not impressed. They wrote a letter of complaint to Pedro Luis Alonso, the Mayor of Málaga, who publicly called for Bardot to be deported due to her "immoral behaviour and attitude". Surprisingly, she was not offended by this and always spoke well of Torremolinos. She returned when filming "El boulevard du Rhum" in 1971 and now has a street named after her.
Jean Cocteau (1960), staying at Hotel Miramar, was arrested for doing "something" with a fisherman behind a boat on the sand, according to Don Lorenzo's account. Marlon Brando and Orson Welles also visited, and all this publicity helped spread Torremolinos's increasingly famous name and reputation.
English tour operator Horizon chartered a Vickers Viking named "Amy Johnson" and operated by BKS Air Transport (later part of BEA and even later British Airways). The flight, with 30 tourists, left London at 3am on 18 May 1956 and after a refuelling stop at Bordeaux landed on Málaga's 850-metre grass airstrip at 10.30am to be warmly greeted by dignitaries from the Ministry of Tourism and Information. That year 850 international passengers travelled through Málaga airport.
From May to December 1957 a 1,800-metre concrete runway was constructed and, after further land expropriations to the north, it was extended to 2,000 metres on 1 November 1958. This enabled the arrival of a Convair 440 Metropolitan airplane on 20 October 1959, the first by Finnish company Kar Air from Helsinki and advertised as the "Ruta del Sol". It certainly was, and the passengers endured refuelling stops at Gothenburg, Basle and Barcelona. By now Boeing was selling its 707 jet airliner to airlines in Europe and planning for the 3200-metre Málaga runway that this jet needed was already underway. On 21 January 1962 a SAS Caravelle jet test-landed in preparation for a direct flight from Copenhagen.
During the 1960s the idea of a package holiday had caught on in all northern European countries and, due to the economies of scale, holiday prices dropped, in turn fuelling rocketing demand. Mallorca led the way in this respect.
El Bazar Aladino, the avant-garde commercial centre that looks like a boat, was opened in 1953 by architect Fernando Morilla - and it remains a curiosity to this day.
HOTEL PEZ ESPADA
On 31 May 1959 the luxury five-star Hotel Pez Espada opened. It was an iconic hotel from that day and no history of the Costa del Sol or Torremolinos is complete without referring to it - its illustrious guests, events and galas. It was promoted by Madrid businessmen Luis Mato and Juan Aberola, and designed by architects Juan Jáuregui Briales and Manuel Muñoz Monasterio. During construction many laughed at the strange idea of building a five-star hotel on the beach, but it marked a watershed in tourism. Read a more detailed history of Hotel Pez Espada.
In the six years prior to its inauguration, six hotels were opened in Torremolinos; in the six years following, about 55.
This rapid evolution was not just because of market forces but also due to a conscious decision taken in Madrid. Gabriel Arias-Salgado had been the first and only minister for tourism and information since the role was created in 1951. He and General Franco saw an opportunity to acquire much-needed foreign exchange.
Spain's first-ever urban planning law had only been introduced in 1956 and it required local councils to produce a local urban plan for Madrid approval. The measures were slow to be adopted and in any case they were considered subordinate to other economic or national plans or initiatives. The second urban planning law was not improved until 1975, and no specific coastal protection law was introduced until 1987.
It is also important to understand that up to this point Gibraltar airport had been the main flight access to the Costa del Sol from the west. Marbella was the central point, with tourist hotels such as Marbella Club and Hotel Fuerte opening in 1954 and 1957, respectively. GB Airways operated a daily flight from Gibraltar to Málaga.
The Pez Espada now provided somewhere for famous Hollywood actors and actresses to stay. Many came to Torremolinos, some to see the town and others because they were filming nearby.
Dirk Bogarde and John Mills in the "The Singer not the Song", filmed in Alhaurín in 1961. Frank Sinatra stayed in 1964 while filming "Von Ryan's Express" in El Chorro. Anthony Quinn and George Segal visited in 1966, filming scenes from "Lost Command" and using Málaga port as a location, while most of the film was shot in Almería. Raquel Welsh visited in 1967 when filming "Fathom", but the famous walking down the steps in a yellow bikini scene was shot in Nerja not Torremolinos.
Continued....... The tourism growth of the 1960's and 1970's
Torremolinos Pre-history, Moors, Catholic Re-conquest, and 20th Century. More >
Torremolinos the 'in place' of the 1950's and the Hotel Pez Espada More >
Torremolinos tourism growth of the 1960's and 1970's More >
Torremolinos finding its way since the 1980's More >
Search hotel in Torremolinos