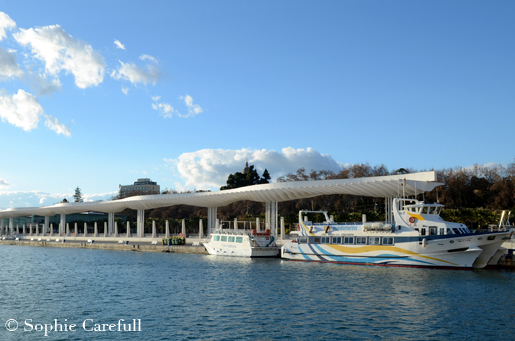 Boat trips and excursions from Malaga port.
The port of Málaga is in international seaport, and a popular fishing port. It is the oldest one of this kind operating in Spain. The port is in a natural bay, well protected by the shape of coastline; it is situated on the edge of the historic cultural centre, and has access to all of the city´s beaches via the Promenade Pablo Ruiz Picasso. It is the second most imp port in Spain for cruise passengers; and is currently undergoing huge renovations.
History
The port was founded by the Phoenicians in 1000 B.C. - under Roman rule, Málaga prospered as a trading port, with exports of iron, copper and lead from the mines in nearby Ronda, they also exported olive oil, wine and garum (a relish of pickled fish). The Garum storage vats of a Roman sea factory can be seen insitu in the University offices on Paseo del Parque. In 711 A.D. the Moors invaded, and Málaga became a major Moorish city and port - it was the main port for Granada too, famed for exports of Figs and Wine. Under the Habsburg Empire it became one of Europe´s biggest manufacturing ports. The East Dock was added in 1720, along with the New Quay, and in 1814 the first lighthouse was built. In 1910 its first passenger terminal was built, and in 1920 the Málaga Puertollano pipeline was built, allowing olive oil to be exported directly from the port. It ceased However operation in 1990. Under the Franco regime, the port fell into decline, Málaga (as an outwardly republican city) was the victim of mass execution and repression from the Nationalists. Franco felt that Spain´s true economic success lay in the manufacturing industry in the north, looking for eventual self sufficiency, thus he felt Málaga port was of no value. The city and port authority have been working to rebuild the port and its reputation to boost its economic value. It location, unusually close to the centre of a city is positive factor for cruise ship passsengers. In the last ten years the Port authority has ceded lant to the city and leisue complex are being opened.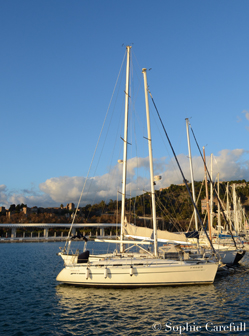 Boats moored near Malaga's trendy Muelle Uno.
Today's use: containers and cruises
The port has 10 quays that are currently in use, for cruise ships, ferries, cargo ships and recreational boats. The main use is for bulk liquid imports, and cruises; approximately 700,000 passengers pass through Málaga port each year, on 220 different cruise liners. Quay 2 and the Eastern Quay are both used for passenger cruise ships.
The area is still known as a popular fishing port; it also has recreational areas for sailing and surfing, and is used for firework displays on national holidays.
Future development
At present, there are two projects to develop Málaga port: the expansion plan, and the city-port plan. The expansion plan intends to double the port area, to allow the movement of an increased amount of large vessels, carrying both passengers and cargo. The city-port plan will see the port authorities hand over part of their control to the city, to develop urban areas for recreational commercial and cultural use. This will also create closer links between the port and the city, so that visiting cruise passengers can have better facilities within easy reach, such as shops and restaurants, as well as enjoying easier access to the centre, while encouraging Malageños to visit the new developments in the port.
The city-port plan
Malaga's port is perfect for weekend strolls in the sun.
Quay 1 - Muelle Uno
The first part of the plan, Muelle Uno Sea Shopping on Quay 1 opened in December 2011. This 80-million-euro 14,000 sq m recreation and commerce centre, with underground parking for 1,000, has 70 shops, bars and restaurants, plus children's play areas; it also features a marina for mega-yachts - recreational vessels up to 30m long. More>
Quay 2
Quay 2 is being redesigned by architects Jerónimo Junquera and Liliana Obal, who won an international architectural competition to design the area. They intend to convert the quay into The Palm Grove of Surprises - a promenade lined with palm trees, leading to a central pergola, with beautiful panoramic views across the Mediterranean, plus a passenger terminal for small and medium-sized cruise ships.
Quay 4
Heredia Quay (Quay 4), will be redeveloped, with new business centre featuring office buildings plus an additional 500 parking spaces. In addition, there will be a new passenger terminal, a port museum, and an environmental education centre. The Eastern Quay will double its passenger capacity to 560,000 passengers per year, all at an estimated cost of €80 million.
The San Andrés Platform
behind the container port, which measures 100,000m2, is to be transformed to include a new marina with 6,000 mooring docks, an auditorium, and new headquarters for the Oceanographic Institute. This transformation will increase space for cultural, research and leisure facilities in the area.