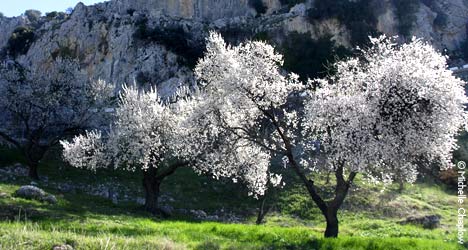 Southeast of Aguilar, on the border of the dramatically rugged limestone peaks of the Sierras Subbéticas Natural Park, is the attractive town of Cabra, which has many interesting sights, including an archaeological museum and various churches and mansions. If you want to find out more about the Sierras Subbéticas, there´s also a visitors´ centre for the park here. Further south still is the large town of Lucena, well known for its numerous furniture workshops. It´s also worth stopping to explore its remarkable historic centre, with many fine examples of Baroque religious architecture.
In the southeastern corner of Cordoba province and on the northern edge of the Sierras Subbéticas is the mountain village of Zuheros, in a spectacular cliffside position with its intriguing Cueva de los Murciélagos (Cave of the Bats). Just east of Zuheros and also in the park is the pretty village of Luque, perched on a rocky outcrop and crowned by a castle. Seven kilometres north of Luque is Baena. Linking Zuheros and Luque and continuing southwest around the park to Cabra and Lucena, is the Vía Verde of the Subbética, an attractive walking and cycling route along the course of a former railway line.which produces some of Andalucia´s finest olive oil. Overlooking the Sierras Subbéticas is the delightful Priego de Cordoba, a beautiful town renowned for its outstanding Baroque churches, some of best in Andalucia.
South of here is Iznajar, located on a promontory and transformed by the creation of a massive reservoir on its doorstep. As well as being a great place for a walk, swim or picnic, you can also go canoeing or sailing on the reservoir.
Villages

Almedinilla
Baena

The area surrounding the town itself is full of archeological finds dating back to the Iberiains with remains from Phoenician and Greek activity.

More >

Located approximately 62km southeast of Cordoba beyond Castro del Río is the handsome town of Baena.

More >

Benamejí
Cabra

Hikers can take one of the numerous beautiful routes around the area and the river Genil.

More >

Cabra is a town whose history can be traced back to the Palaeolithic age, and which was at one point the epicentre of the Roman empire.

More >

Carcabuey
Doña Mencia

If you're looking for a village filled with legend, then Carcabuey is just the place you're looking for. Just like the village itself, the mysteries of this town revolve around the castle.

More >

The Museo Histórico-Arqueológico y Etnográfico offers visitors information on the history of this village. Other attractions include the ruins of a castle and the Ermita del Calvario.

More >

Encinas Reales
Fuente Tojar

This village has a beautiful neoclassical temple dedicated to la advocación de La Expectación, and from Vodofresno you can get amazing views over the river Genil.

More >

Fuente Tójar is home to the Mirador de La Canteruela, the Iglesia de Nuestra Señora del Rosario and the Historical Museum.

More >

Iznajar
La Carlota

This small town of some six thousand inhabitants was transformed some years ago by the creation of an "

embalse

", or reservoir.

More >

The Cordoban town of La Carlota is named after King Carlos III who founded the present day town in an attempt to re-populate the area..

More >

Lucena
Luque

Although Lucena appears to be entirely comprised of furniture factories and outlets, the old town hosts many exquisite churches.

More >

On the fringes of the rugged Sierras Subbéticas Natural Park is the attractive village of Luque.

More >

Palenciana
Priego de Cordoba

Palenciana is a small and tranquil village, with typical white houses with windows and balconies of wrought metal. The most important building is the church, dedicated to San Miguel.

More >

This prosperous olive-farming town stands on a plateau overlooking the rolling hills of the Subbética Mountain Range.

More >

Rute
Zuheros

This prosperous olive-farming town stands on a plateau overlooking the rolling hills of the Subbética Mountain Range.

More >

Zuheros is one of the best of the White Villages, "

el pueblo mas bonito del mundo

".

More >


Parks

Sierras Subbéticas
Vía Verde of the Subbética

The Sierras Subbéticas is a stunningly beautiful, rugged park located in the heart of Andalucia.

More >

This route covers 56km, much of it on the fringes of the limestone mountainous area of the Sierras Subbéticas Natural Park.

More >

Places to Visit

Cueva de los Murciélagos

The Cueva de los Murciélagos (the Cave of the Bats) is a system of caves situated on the edges of the limestone Sierras Subbéticas Natural Park.

More >