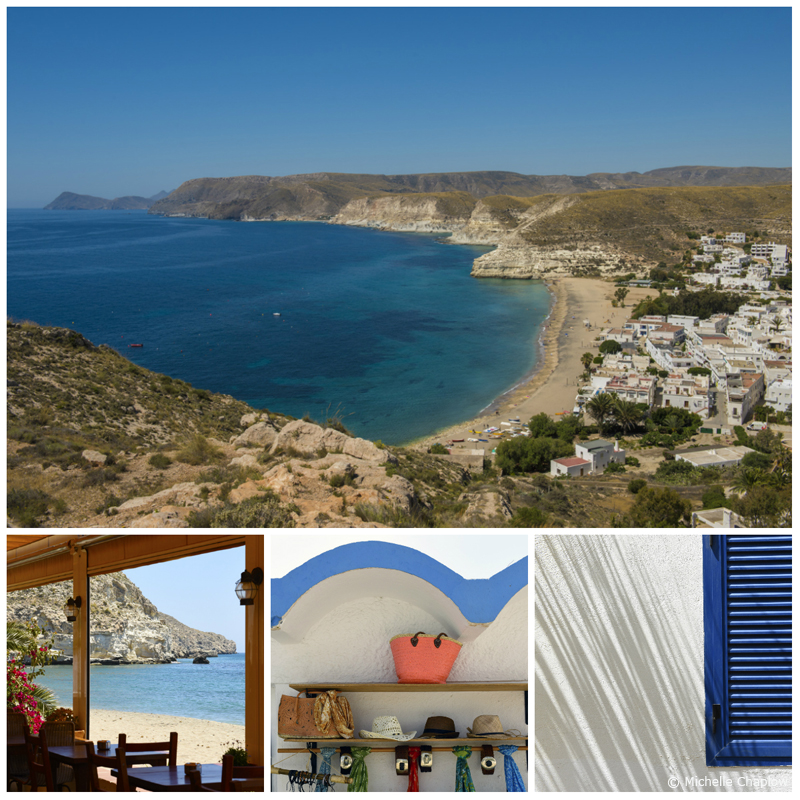 Agua Amarga - just look at those crystal-clear waters. (Click to enlarge images)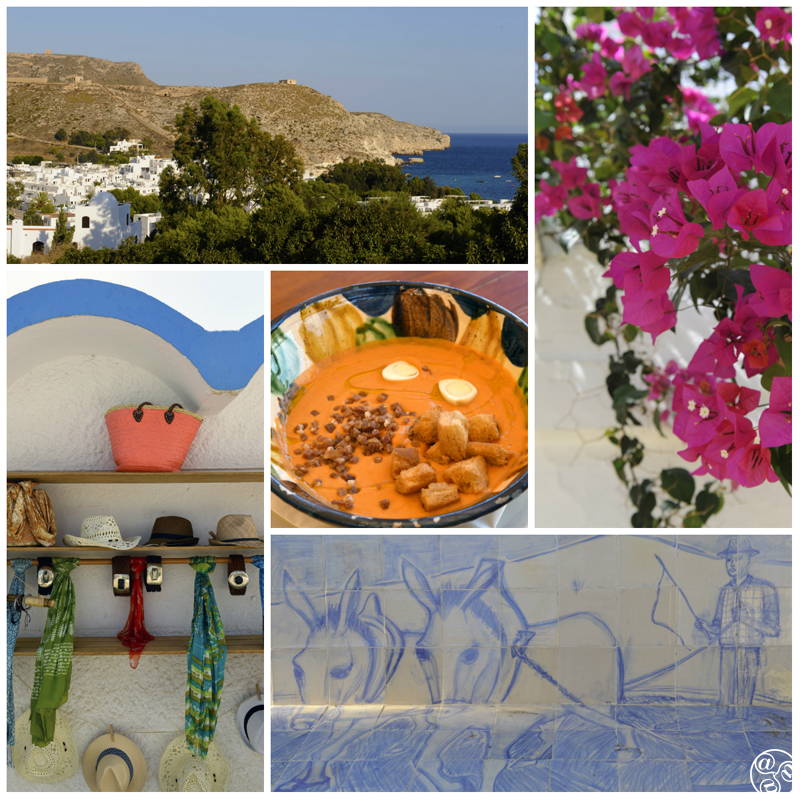 Still undiscovered by large-scale tourism, this is one of Andalucia's hidden seaside treasures.
Agua Amarga
by Chris Chaplow
Agua Amarga is a pretty fishing village and beach resort on the Almeria coast, in Cabo de Gata-Nijar natural park, with a population of just 400. Still undiscovered by large-scale tourism, this is one of Andalucia's hidden seaside treasures.
While its name may translate as Bitter Water, this delightful, laid-back beach town has excellent Mediterranean cuisine, good independent boutiques and trendy bars. During the season, May to September / October, the beach scene is lively and bars are buzzing.
The picturesque white village is protected by large headlands, with small fishing boats anchored in the bay. The beach is sheltered with smooth, calm waters, perfect for swimming and great for families.
Agua Amarga is part of the municipal district of Nijar. You can reach the village from Carboneras to the north, or inland from the motorway, however access from the south is only by foot or bike.
The traditional, unspoilt village sits on a 500-metre-long beach, with houses and restaurants along the beachfront. While there is no seafront promenade as such, it's very pleasant for strolling along the beach.
This fishing village does not have a harbour - instead, small fishing boats are pulled up onto the beach. You can sample the freshly-caught fish at the superb, locally-renowned beachfront fish restaurant called "El Playa".
As well as the usual food shops and souvenir stores, hairdresser and massage salon, you can find holistic treatments and yoga classes. On-trend independent holiday boutiques such as El Gran Azul sell swimwear, desirable summer attire, and handmade jewellery.
In the small town square, blue-and-white-tiled Bar La Plaza is the focus of village life. Children will love the playgrounds, one of which is right on the beach.
Hotels
With half a dozen hostels and many apartments to rent, the town is very quiet in the winter but comes alive in the summer: the beach has a lifeguard service, as well as shower and public toilets.
Search Hotels near Agua Amarga
Beaches
The Agua Amarga beachfront comes to life in summer with a higgledy-piggledy row of chill-out and traditional bars, restaurants and beach-front apartments with mini-terraces. Try restaurant La Playa, with rustic wooden seating overlooking the shabby-chic blue-painted railings, awning and raised terrace. Whilst the menu might look pricey, most dishes are generous-sized portions. They play good music.
You can walk to a number of pretty isolated coves to the south - be sure to take plenty of water: Cala Puente, Cala Chumba, Cala Montoja and the renowned Cala San Pedro; Cala de Enmedio and Cala del Plomo also have road access (7km by dirt track from inland).
Playa las Muertos is located over the large Mesa Roldan headland to the north of Agua Amarga, in the Carboneras municipal district.
Cargadero de mineral
On the headland 2km to the north of Agua Amarga, you can see the site of the cargadero de mineral (mineral loading dock), the terminus of a mine railway that ran from Lucainena de las Torres. You can also see the old coal store on Agua Amarga beach, at the foot of the headland. Mine supplies were landed by ship and lifted up to the railway on the headland using a static engine that pulled small wagons up the very steep ramp using cables. More>
Mesa Roldan
Mesa Roldan is a flat-topped extinct volcano, part of a massive rocky headland topped with a lighthouse and tower, between Agua Amarga and Playa de los Muertos. Mighty watchtower Torre de Mesa Roldan, documented since 1497, was considered the most perilous point for Moorish invasions on the Cabo de Gata coast. The lighthouse dates from 1863. More>
Filming
Mesa Roldan fort was used as a filming location for Game of Thrones season six, shot in October 2015 and aired in spring 2016. It was a fortification in Meereen (Khaleesi's city). More>
On the side of headland overlooking the village is the villa featured in the film Sexy Beast, staring Ben Kingsley as the retired criminal trying to persuade his long-standing friend to come out of retirement for one last job. The villa was chosen due to it hanging on the side of the headland.
Final word
Fortunately, Agua Amarga wasn't exploited during intensive coastal development during the early 2000s. Those who yearn for San José as it was decades ago should check out Agua Amarga, for a taste of the authentic coastal Spain.
Next places
Nearest places are Carbonaras, Fernan Perez, Las Negras, Rodalquilar.