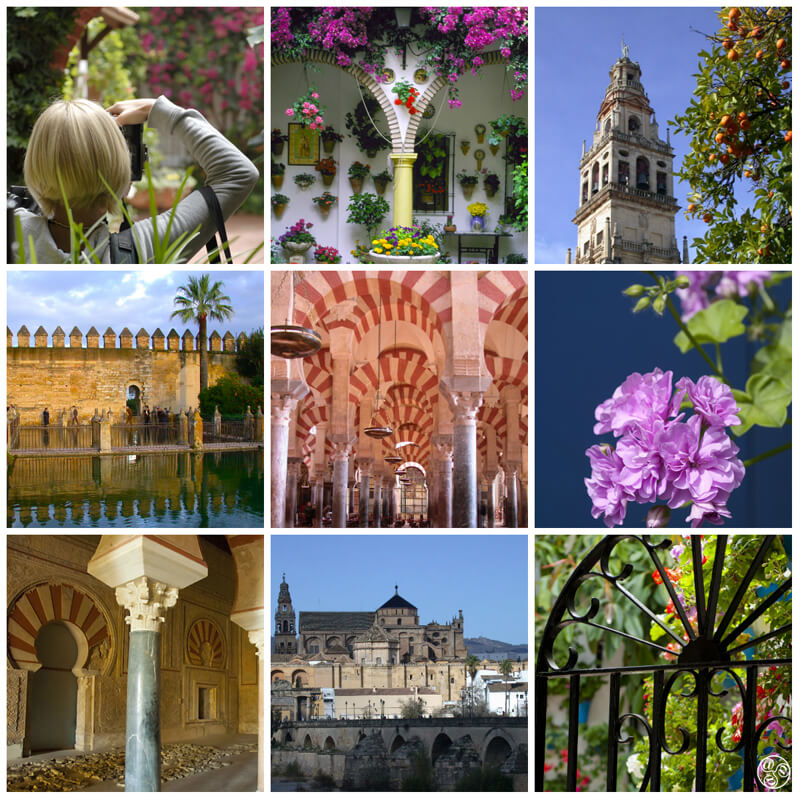 Top Ten sights in Cordoba © Michelle Chaplow
We've put together a top ten list - if you're short of time and you can't decide where to go and what to see in Cordoba, just follow our springtime tips. Explore the city's rich past, with Muslim, Jewish and Roman religious, cultural and archaeological attractions - and enjoy some extra floral delights.
May is the best month to visit Cordoba, with its riot of colourful and fragrant celebrations. The floral excitements kick off with the Battle of the Flowers parade, followed by the Cruces de Mayo - a competition of flower-decorated crosses, between city neighbourhoods, then the Patios Festival - traditional Andalucian houses whose interior courtyards are festooned with potted flowers and plants, bursting with blooms. Finally, there's the Feria de Cordoba, with horses, sherry and dancing.
1. The Mezquita
2. Alcazar
Once the second-largest Mosque in the Islamic world, this now enjoys a curious status as a cathedral-within-a-mosque, though its instantly recognisable hallmark are the stripey brick arches of the Moorish-era temple.
More >
The big attraction here are the gardens, laid out in descending terraces with typical Islamic rectangular pools - some of the most beautiful in Andalucia - perfect for a cooling waterside break on a hot spring day.
More >
3. Juderia
4. Torre de la Calahorra
The maze of narrow, windy streets found in many Moorish Andalusian cities, where the Jewish merchants lived and worked; you can visit the 14th century synagogue and a restored Sefardi house.
More >
Situated at the end of the Roman bridge, the tower's museum offers a fascinating insight into life in the Moorish city - and great views.
More >
5. Museo Romero de Torres
6. Madinat al-Zahra (Azahara)
Chocolate boxy 19th-century Andalucian art - the painter is a ubiquitous feature of Cordoba, so you shouldn't miss this one.
More >
A restored Moorish city (means City of the Flowers) just outside Cordoba, with a fairytale air, and bursting with blooms such as oleanders, lilies and roses.
More >
7. Plaza del Potro
8. Palacio del Marques de Viana
In the 15th-century Posada del Potro, you'll find the new Centro de Flamenco Fosforito.
More >
Elegant family palace with 14 patios - if you haven´t seen enough already.
More >
9. Jardin Botanico
10. Callejon de las Flores
For further flora appreciation, the Botanical Gardens are bursting with spring colour right now, and feature a shady arboretum.
More >
The most famous (and most photographed) whitewashed, flower-filled street in Cordoba, close to the Mezquita.
More >