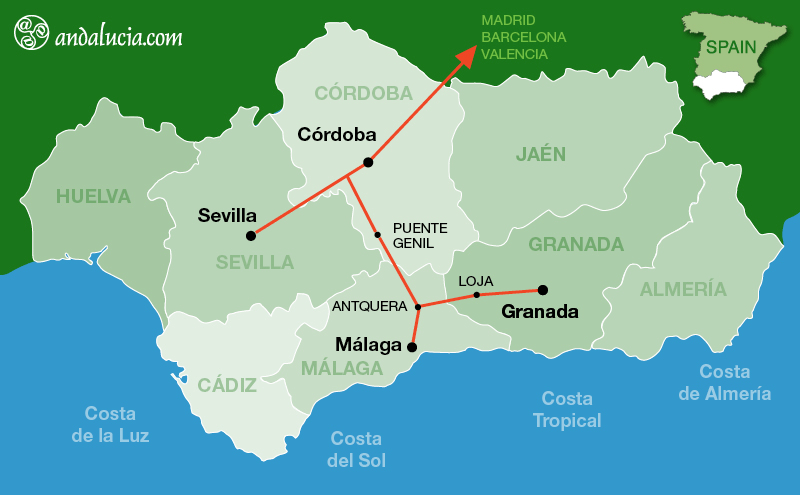 AVE the High-speed long-distance train routes in Andalucia
History to High-speed long-distance trains AVE
The Spanish broad-gauge had been adopted in the mid-19th century to enable bigger and more powerful steam engines to traverse terrain that was tougher than that found in England and France. Unfortunately, little by little all European countries adopted the standard-gauge (distance between the inside of the two train rails) of four feet eight and a quarter inches (or 1,668 millimetres), leaving Spain disconnected.
In the mid-1980s it was decided to build a Nuevo Acceso Feroviario a Andalucía (NAFA) that avoided the difficult Despeñaperros gorge. Work began on a route for a mixed passenger and freight broad-gauge line. With the decision to have the line open by the 1992 Sevilla Expo it was decided that the NAFA should be international gauge. This was so that the French and German rolling stock and systems could be purchased without modification. That decision was taken on the on 9 December 1988 by the Council of Ministers. Even though reported in El País the following day it went largely unnoticed, but it was a decision of mayor change that had been resisted for 150 years.
The service were frequent and reliable, and they famously offered a refund if your train was more than five minutes later than its scheduled arrival time. This refund offer has since been watered down in the era of low-cost tickets.
In tests on 23 April 1993, train set number 100-015 reached a speed of 356.8 km/h, a Spanish record for a non-modified train. This test allowed a theoretical increase of the top speed on the Madrid-Sevilla route from 270 km/h to 300 km/h in 1994,
In 2007 the line from Málaga to Córdoba via Antequera was opened, making it possible to travel from Málaga on Costa del Sol to Madrid and later Barcelona.
The trains run at target top speed of 300 km/h for operational reasons although the train units are certified to 330 km/h and 350 km/h.
There are three different "train sets" in operation. The most popular in Andalucía are the Class 102 introduced in 2005. The two power-car and 12 passenger-car train has earned the nickname "pato" (duck) based on the aerodynamic shape of the fronts areas. Since May 2007 the trains travel with a target top speed of 300 km/h.
The newer Class 103 were introduced in 2006. They are eight-car sets which incorporate driver and passenger-integrated cars at either end. They were ordered primarily for the Madrid-Barcelona route, but their distributed power system has proved efficient for inclines so they have also be allocated to the Madrid-Málaga route. They are certified to run at 350 km/h but for operative reasons also travel with a target top speed of 300 km/h. RENFE have 26 Class 103 AVE units.
The older Class 100, built by Alstrom of France as a variation of their TGV technology, were the first to be introduced to Spain in 1992 for the Madrid-Sevilla route. The entire fleet was refurbished in 2007. The sets are made up of two power cars with two motorised bogies each and eight passenger cars with shared bogies. The units are also now used on the Avant fast-medium distance service, such as from Málaga to Sevilla. RENFE have 26 Class 103 AVE units.

For technical information on AVE Train Sets, click here.
AVE Trains to Andalucia
AVE Trains from Andalucia
AVE Trains within Andalucia
The AVE also operates between some of the major cities in Andalucia, passing through stations including: Seville, Cordoba, Malaga, Granada and Antequera. For more information and details on specific routes, see our AVE trains within Andalucia page.
AVE Stations in Andalucia
Timetables and Tickets
Below are a selection of the most popular AVE train routes in Andalucia, click on the buttons to take you through to one of our partner's sites, input your dates and check the timetables for your trains.

This page was about High speed AVE train services, also check Fast Long Distance, Regional, and Cercanias (local).