Coronavirus in Costa del Sol and Andalucia - News
Page updated with latest news, last updated Tuesday 07-04-2020 12.24 hrs
There have been 8.767 confirmed cases in Andalucia, 186 more than day before. There have been 528 deaths, 37 more than the day before and 900 cured, 102 more than day before. Spain now has 140.510 confirmed Coronavirus cases (up 5.478) and 13.798 dead, 743 more than day before. (Spain data released 07-04-20 12.15 hrs, compiled at 21.00 hrs previous day ) See Confirmed cases and Growth Rates pages.
Numbers are still looking better as can be seen from the graphs on Confirmed cases and Growth Rates pages. Read some good news stories.
Spanish President of the Government, Pedro Sanchez announced at mid day on Saturday (04-04-2020) that he is extending the State of Alarm again, this time until end of Saturday 25th April 2020. Sánchez apparently made the decision was after speaking with opposition leaders, and meeting scientific experts. The extension needs to be ratified by Congress.
Confirmed cases that required hospital admission in Andalucia are 4.227 (49%), up 120 on previous day.
Confirmed cases that required hospital Intensive care in Andalucia number 489 (5.7%), up 15 on previous day.
Confirmed cases that are currently in hospital in Andalucia number 2.022 (26%) (one off statistic released 04-04-2020).
Malaga province has always had most confirmed cases in Andalucia. However in the one of statistic released on Saturday, Granada province has more Coronavirus patients in hospital than Malaga province. See Confirmed cases.
Saturday 28-03-2020 was, we believe, the first time there we no flights from Malaga airport to UK since BEA started a service on 01-04-1962 with a 66 passenger Vickers Viscount, followed in May by Euravia (later Britannia) with a super Constellation and a British United Airways service. Iberia started flights on 18-05-1963 with a Caravelle.
Spanish President of the Government, Pedro Sanchez held his third lengthy Saturday night TV speech to the country on 28-03-2020. As from Monday all non essential workers will be required to stay at home until Thursday 9th April. They will be paid and will have to make up the hours in the future. Many office workers are already working from home and this will continue. Mr Sanchez defined essential as those the defined in the (14-03-2020) decree. No doubt there will be further discussion on this definition. The measure was clearly directed at construction and non essential manufacturing industry, it is to be approved by the Cabinet in the morning and then published in the BOE (State gazette) before becoming law. Friday 10th is Good Friday easter bank holiday and Thursday 9th is a regional holiday in Andalucia.
The decree on 19-03-2020 (BOE) was to close all hotels, tourist apartments and campsites in Spain from Thursday 26 March. If you haven't been able to return home and have nowhere to stay, the Spanish authorities have published a list of hotels and short-stay accommodation that will remain open during the state of emergency. Not for tourism but only within the existing rules. there are about 30 in Andaluca. More>
The state of Alarm and associated lockdown on travel and leisure in Spain is extended until midnight 11th April 2020. This was announced by the Government following a call with the regional Presidents. The Andalucian government swiftly announced that it had supported the decision. It was ratified by Congress a few days later
The police and Guardia Civil are mounting roadblocks, to deter people from traveling to second residences and holiday homes.
Spain closed its land borders into France and Portugal on midnight 18-03-2020. Spain closed its borders at airports and sea ports to all travellers in coordination with EU. From midnight 22-03-2020 the only people who are allowed entry are Spanish nationals, long term residents returning home, cross border workers, health care professionals, freight transport drivers, diplomats, or those on imperative family duty. This does not apply to the land borders of Andorra and Gibraltar. Source BOE Gibraltar in a separate initiative ordered a lockdown from midnight 23-03-2020. Leaving Spain by land is not restricted.
One of this issues of the current situation is the lack of detailed information being published by the National and regional authorities. The national government give a daily update with figures at Regional level, the Region followed up with info at provincial level. Andalucia health department government use to state for each case, sex, age, hospital or home province of the patient. Matthew Bennett in Madrid has built up a 100.000 Twitter following by iincluding info, mainly public domain but hidden away, that the mainstream media tends to avoid. He tweeted "I've been trying to get more information about the Coronavirus situation in Spain out of the health ministries for 4 weeks. People, locked down in their homes, with a possible mortal danger outside, want to know where the clusters are and what's going on, and that is normal." By the 28-03-2020 Matthew noticed that "The issue of Coronavirus data in Spain still depends on the region, even for the ones trying to do something. Few are doing so but of those who are, each region is doing it in its own way with different pages, formats and lists of data." He tweeted links to geo data from Catalunia, Basque Country, Castilla y Leon, Canary Islands, and Murcia. Andalucia regional government still only publishes data for the 8 provinces and not the health districts nor towns.

In Marbella thanks to Maria José Cañete, President of Helicopteros Sanitarios we know "27 people who tested positive for coronavirus are now hospitalized in Marbella hospitals and we sincerely hope that they recover soon." Maria Jose also mentions that they have some Coronavirus tests available. (Source)
Until Monday Andalucia was Spain's best placed region. In a new metric; IA(14d) which is 'cases in last 14 days per 100.000 population' Andalucia with 61.03 (31-03-2020) is still one of the less inflicted region in Spain. Andalucia 's predominantly rural demographics have helped and have explained why Malaga stood out as the worst of the 8 provinces by far. On the new IA(14d) metric Andalucia now falls just behind Murcia and Canary Islands (not counting Ceuta and Melilla). See Confirmed cases.
Testing has increased and 11 drive through centres have been set up in the cities where mouth swabs are taken quickly and efficiently. These are still limited to medical and security personnel.
The coronavirus has now reached 180 countries and Italy, Spain, UK and France have more cases than China at the same stage. In terms of cases at this moment Spain unfortunately, is the worst country in the world with cases now doubling every two days. In terms of deaths Madrid and Lombardy in Italy stand out as the worst, followed by Catalunya and New York in their earlier stages.
These figures stand out when the base line is changed form calendar date to days since 100 cases or 10 deaths reached. The FT has removed the paywall from its informative graphs page.
Map of Provinces and Coasts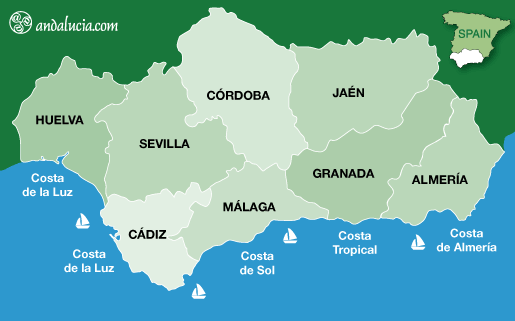 Map of the provinces and coasts of Andalucia